Protide Celebrates 35 Years
Protide Celebrates 35 Years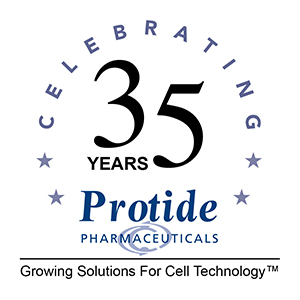 Protide Pharmaceuticals, Inc. is excited to celebrate our 35th anniversary.
Since our inception, Protide has been at the forefront of Characterized Cell Growth and cryopreservation technologies. Protide pioneered Characterized Cell Growth Solutions 35 years ago when our serum-free technology was introduced.
Protide continues to recognize the importance of our technology and product quality in cell therapy, regenerative medicine, vaccine production and basic research.
To our customers, we assure you of our continued service and dedication. We are indebted to your loyal support and the use of Protide products. We are energized for another 35 years of excellence.
Growing Solutions For Cell Technology™